Children play it is what they do and it is a very important part of how they learn. Sometimes they need encouragement to help get the ball rolling and sometimes this Mum needs inspiration for new and exciting play ideas or just a different take on an old favourite. So I will be linking this up with Childhood 101 We Play were you can find lots great play ideas....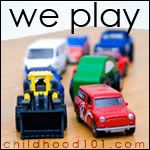 Today we went out to sea in our trusty sail boat (washing basket with t-shirt sail) the water (blue sheet) was wonderful and teaming with colourful fish....
Almost got one
Great catch an orange fish
Showing off her catch of brown Fish
Super happy with her purple fish
This game was great fun when
Neevah
caught a fish she would name the colour we also mixed it up a bit by fishing to order
ie
I would like a blue fish and a brown fish please then whoever was fishing had to catch a blue fish and a brown fish for the order.