Children play it is what they do and it is a very important part of how they learn. Sometimes they need encouragement to help get the ball rolling and sometimes this Mum needs inspiration for new and exciting play ideas or just a different take on an old favourite. So I will be linking this up with Childhood 101 We Play where you can find lots great play ideas....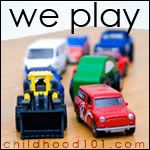 This is a simple counting game which is also great
practice
of the pincer grip as they get the little pom poms into the caterpillars mouth. You could also practice colours while playing this game.
For Liam I kept it very easy and just counted each pom pom as he feed it to the caterpillar.
For
Neevah
I teamed it up with one of our favourite books The Very Hungry Caterpillar - by Eric
Carle
as we read the story she feed her caterpillar the corresponding amount of pom poms to what the caterpillar was eating in the story. Neevah also enjoyed playing this without the book pretending the pom poms were all different kinds of foods like a chocolate chip cupcake and a meatball..... 'Meatball for the Caterpillar yum yum'
For more advanced or older children i would turn this into a dice game (using 1 or 2 dice) with them feeding the caterpillar the right number of pom poms for the number shown on the dice.