Children play it is what they do and it is a very important part of how they learn. Sometimes they need encouragement to help get the ball rolling and sometimes this Mum needs inspiration for new and exciting play ideas or just a different take on an old favourite. So I will be linking this up with Childhood 101 We Play were you can find lots great play ideas....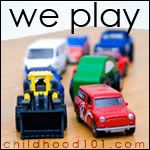 Last night I created a Dice featuring six different Australian Animals for the kids to move like.
Run like an Emu
Hop like a
Kangaroo
Snap
like a Crocodile
Climb like a
Koala
Slither
like a Snake
Flap like a Kookaburra
The dice was not overly popular (they were not interested in rolling the dice to randomly pick an animal) but moving like animals was lots of fun and very hard to photograph!
Flapping like a Kookaburra
Pretending to be a Snake
Running like an Emu
This game could work for lots of different animal movements or sounds. I imagine a farmyard dice would be fun with lots of mooing, quacking and oinking.