Don't forget to stop by Childhood 101 We Play where you can find lots of other great play ideas....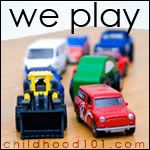 Messy Fun is generally good fun and this activity is no exception so play clothes are a must.
Todays
Nursery Rhyme was teamed up with some outside ball down the slide painting (
hmmm
can't think of a better name for it).
Jack and Jill went up the hill

To fetch a pail of water

Jack fell down and broke his crown

And Jill came tumbling after
You will need
A long roll of paper
2 balls
A slide
Paint
Bucket or container to catch the balls at the end of the
slide
1 .Setup by covering your slide in paper and placing a bucket at the end of the slide
2 .We then drew faces on the balls and labelled them Jack and Jill
Jack and Jill went up the hill
To fetch a pail of water

(we ran through the nursery rhyme with the balls paint free the first time)
Jack fell down and broke his crown
Jill came tumbling after
Wow this is fun
Our finished painting
'Come Play at
Childhood 101
We Play link up'