Don't forget to stop by Childhood 101 We Play where you can find lots of other great play ideas....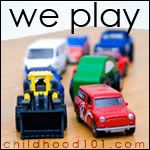 My kids have been playing sleeping a lot lately this includes putting dolls to bed and pretending to put themselves to bed . They get piles of blankets and some pillows, Liam likes to pretend snore (so cute) and it normally ends in fits of giggles.
Having a quick nap with her dolls in Liam's bed
'Come Play at
Childhood 101
We Play Link Up'
Something I just thought of maybe they like to play sleeping
because
the blankets are keeping them warm during this cold snap we are having!