Don't forget to stop by Childhood 101 We Play where you can find lots of other great play ideas....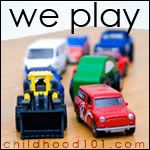 In the first week of Childhood 101 We play Link Up
Eco Toys
generously gave away a voucher to one of the participants and we were lucky enough to win! Thank You so much Eco Toys the kids love the toys we picked from your store using the voucher.
We picked this great
Wooden Toaster Set
the kids have thoroughly enjoyed playing with this set Liam loves using the knife to cut up the bread, tomato and cheese/butter and Neevah loves popping the toast and seeing if she can get it to jump out of the toaster. Both of the kids have brought us many slices of wooden toast for breakfast so so cute!