Don't forget to stop by Childhood 101 We Play where you can find lots of other great play ideas....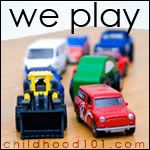 Even though it is now officially winter here we had quite a nice day today and i took the opportunity to get the kids outside for some
water play
which they both love. Such a simple activity keeps both the kids happy and occupied for quite awhile.
Neevah
had lots of fun playing with a spray bottle of water - she sprayed windows, plants and the ground
Liam had fun with a bowl of water and an old sponge
Liam dripping water off the sponge into the garden
'Come Play at
Childhood 101
We Play link up'
P.S next week I promise to post about the great toys from Eco Toys we got with the voucher we won in the first week of the Childhood 101 We Play link up