Don't forget to stop by Childhood 101 We Play where you can find lots of other great play ideas....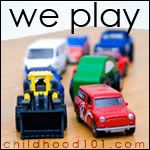 This week I thought we would try a guessing game, I put different pieces of fruit into brown paper lunch bags and then invited
Neevah
to the table to play Guess the Fruit!
Neevah
had to close her eyes and put her hand on the table and then I slipped the paper bag over her hand and secured the opening with a hair tie so she couldn't peak...
hmmmm
what fruit is in the bag?
Once she guessed a fruit she took a look to see if she was right and of course taste tested the contents
A Yummy Strawberry
A Crunchy Apple
Lots of Sultanas
And last but not least a Banana
Come Play at
Childhood 101
We Play link up