Don't forget to stop by Childhood 101 We Play where you can find lots of other great play ideas....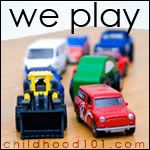 Today we are sharing some Messy Fun so pull out the play clothes or use this idea in the bath/shower. Shampoo paint smells great and has a fun slippery foamy feel!
Shampoo Paint
6 Tablespoons of Shampoo
2 Tablespoons of Water
Food Colouring
Put the shampoo and water into a container and mix with an electric beater until it is foamy (kind of like shaving cream) then add a few drops of food colouring and mix
recipe was found
here
Look how high I can reach Mum
Smudge it around a bit
and draw a few happy faces
Neevah
had so much fun playing with this paint on our big window but I would
recommend
putting a towel down on the ground to catch the drips and to stop the ground from getting to slippery. Clean up was easy I just wiped the window down with a damp cloth however
Neevah
ran off to play outside before I washed her hands and her fingers now have a slight pink tinge.
Bring on Summer so we can try this outside :)