Don't forget to stop by Childhood 101 We Play where you can find lots of other great play ideas....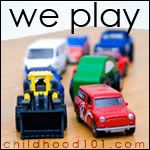 Wahooo
we are back after a forced blogging holiday due to a broken camera we also had a crafting break and filled our time with parks and visiting friends :)
Just in time for Fathers Day I stumbled across this great post for a Salt
Ceramic
Paperweight by
Tired, Need Sleep
at the bottom of the post was a suggestion to try this with a
Handprint
which I thought was
brilliant
!
To Make Salt Ceramic Dough
Mix 1 cup of salt, 1/2 cup of cornstarch (I used white wings cornflour), 2/3 cup of water in a pot and cook/stir over a medium heat until all the liquid has been adsorbed (will look a bit like cooked
playdough
).
Once cooked place it onto some foil to cool as it is quite hot. Once cool kneed the dough until it is soft and pliable. It will be a little bit sticky so put some wax paper or something similar down before letting the kids loose.
Making the
Handprint
After she made her
handprint
I outlined it with
Permanent
Black Marker and wrote her Name and Age. I then let her pick some beads to put around her
handprint
she went straight for the brightly coloured stars which she carefully pushed into the dough (silly me forgot to take a photo!)
The Dough takes roughly 48 hours to harden - we only made ours today so I will let you know how it goes :)