Don't forget to stop by Childhood 101 We Play where you can find lots of other great play ideas....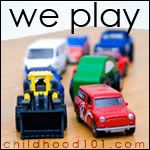 This doesn't have to be played inside but we certainly did and
Neevah
had a great time. All you need is a few empty soft drink bottles and a ball we added a little bit of coloured water to each bottle for fun (the more water you add the harder the bottles are to knock over).