Don't forget to stop by Childhood 101 We Play where you can find lots of other great play ideas....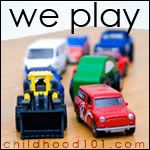 While
Neevah
knows most of her basic shapes Liam is still learning them .... this idea works well for both of them and could easily be used for most shapes.
You will need
Cardboard - we used an old nappy box
Hot Glue or you could try school glue
Marker Pen
Paper
Crayons
Sticky Tape
To Make
1 . On the cardboard draw the shapes with marker pen - the first time I tried this I just free handed the shapes with hot glue this didn't really work and I had some very wonky shapes!
2 . Go around the shapes with hot glue
3 . Tape the cardboard to your table so it doesn't move around when they are doing the crayon rubbings you may also like to tape the paper over the cardboard for the same reason
4 . Grab the crayons and let them at it