Don't forget to stop by Childhood 101 We Play where you can find lots of other great play ideas....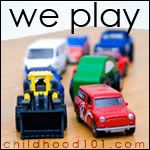 A few months back we made
Dinosaur Feet
the kids loved them they where a huge success. Knowing my kids loved this sort of thing we set about making Monster Feet but we didn't have any tissue boxes so we went with a different design...
You Will Need
Thin Cardboard (a cereal box would be perfect)
Maker Pens
Glue
Foil
Scissors
To
Make
1 . Cut out 2 large feet shapes form the thin cardboard
2 . Cut a U shape in the middle of the feet - this is how your child will get the monster feet on and off so make sure it is big enough
3 .Let your child decorate the feet with maker pens
4 .Rip up some foil into small pieces and glue them onto the feet as monster scales
5 .Time to wear the monster feet
Neevah loved adding the scales to her feet and she had great fun wearing them but to be quite honest I think she liked the Tissue Box Dinosaur Feet a lot more.