Don't forget to stop by Childhood 101 We Play where you can find lots of other great play ideas....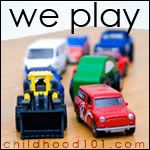 Name Soup was inspired by last weeks We Play by
Adventures with Kids
were they fished for ping pong balls. We don't have any ping pong balls or a fishing net so using a bit of creative license I gathered together some lids and a slotted spoon. On the lids I wrote the letters of
Neevahs
name and I also wrote her name on a piece of cardboard for reference
Pulling the first letter out of the soup
Once she pulled out a letter she laid it over top of the same letter on the reference card
Yay
! we spelt
Neevah
She spelt her name out like this twice
but what she really enjoyed was ....
Giving the soup a good stir
Pulling out each letter and naming it
To change the game up a bit take away the reference card and see if they can still spell their name or add a few extras letters not contained in their name. For older children you could spell out other words like cat, dog etc and maybe on the reference card instead of having the word spelt out you could have a picture of the animal. I am sure there are plenty or other ideas that would work including numbers.