Don't forget to stop by Childhood 101 We Play where you can find lots of other great play ideas....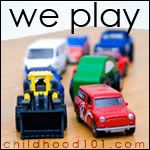 Yesterday we had lots of fun outside watching the wind at work blowing the streamers on our
Wind Wands
so I thought it would be great to continue the theme with another fun wind activity. Today we pretended to be the wind by blowing clouds (cotton balls) across the sky (blue paper).
Blowing the cloud all the way across the sky
Neevah
found this quite easy so I lengthened the sky and also added start/finish lines
Ready Set Go!
Race those Clouds
Neevah
found racing the clouds the most fun. It was funny when we blew our clouds off the side of the paper, super funny when our clouds crossed paths and best of all we both cheered when someone made it across the finish line.