Don't forget to stop by Childhood 101 We Play where you can find lots of other great play ideas....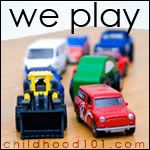 Back in July we played
Safari Animal Tr
acks
it was so much fun I knew
Neevah
would love to try it again. Today we made paint tracks with toy Dinosaurs it was quite messy and just as much fun as last time. The Dinosaurs roared and chased each other around the paper to form an interesting piece of free art. I would recommend you use a washable paint for this activity so it comes off the toys easily and wearing play clothes would also be a good idea.