Don't forget to stop by Childhood 101 We Play where you can find lots of other great play ideas....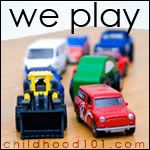 It is getting hot here so as a fun way to keep cool I made some large ice cubes in a muffin container for the kids to play with. I setup 2 ice cream containers and tongs for
Neevah
to play with transferring the ice cubes back and forth she enjoyed this activity a lot more than I thought she would.
It took concentration to use the tongs especially once the ice melted a little and got slippery
She practiced using the tongs with her right hand
And with her left hand
We also added ice cubes to the paddling pool which was fun for 5
mins
before they melted
Playing was ice was great fun and I can see the kids asking to try it again in the near future.